> >The story of the stolen body part of Napoleon Bonaparte
The story of the stolen body part of Napoleon Bonaparte
In 1977, for the cut off penis of Napoleon Bonaparte (or, at least, that was considered as such) they paid an absolutely fabulous amount of $ 3,000 for those times. However, the path that this exhibit has done during its existence is perhaps even more amazing.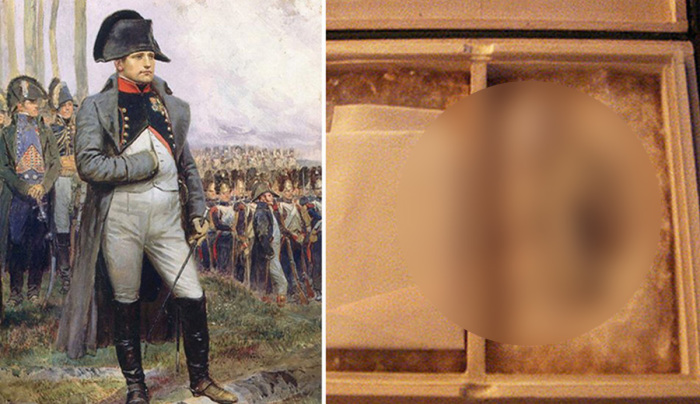 It is believed that the penis cut off the doctor who performed the autopsy of Napoleon. Then, the doctors (and there were several of them) not only established the cause of death of the commander - stomach cancer, but also cut out the heart and the stomach. These bodies were placed in silver vases and buried with the emperor himself in a sarcophagus, which is now in Paris in the House of Invalids.
1.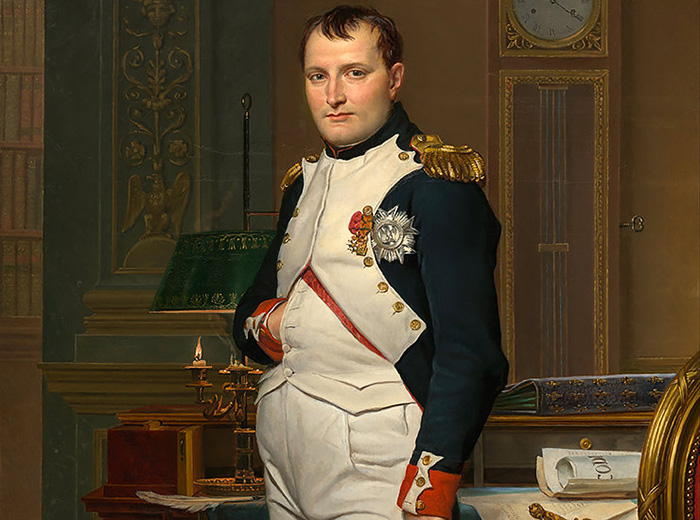 However, it is believed that the doctor then cut off not only these two organs and Napoleon was buried ... not completely. To open the sarcophagus, no one today will not allow, therefore, to speculate on this topic can be infinite.Anyway, the history of this exhibit asserts that at that time doctor Francesco Antommarki furtively cut off Napoleon's penis from other doctors and hid it from his colleagues. At least, Napoleon's valet wrote about this in his memoirs.
2.
The sarcophagus in which the body of Napoleon Bonaparte is kept.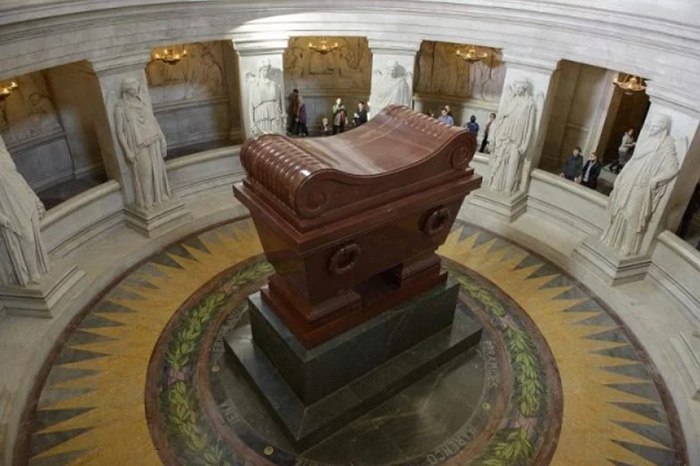 Further mention of the penis of Napoleon appears in the statements of the abbot Vinyali, who lives in Corsica. He claimed that he possessed a part of the commander's personal belongings and thus a very important body. After the death of the abbot, the condition, including this rarity collection, was transferred to the abbot's sister. From sister to her son. And it was he, Charles Marie Giannettini, in 1916 made a complete list of all the relics that he inherited from his uncle.
3.
Photo provided by Tony Perrottetem.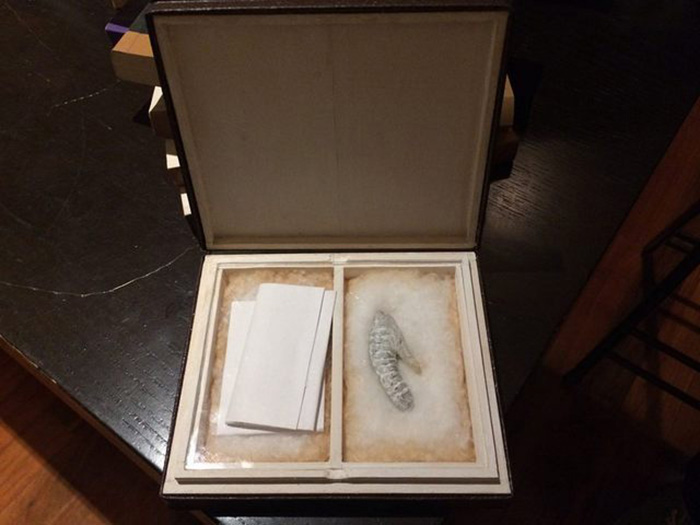 This collection was quite impressive, and Charles himself decided that it would be enough to pass it on as an inheritance, it's time to launch the move and exchange it for a decent amount. So the penis was, among other things, sold to the Maggs brothers booksellers and traveled across the continent to London. The brothers also did not keep the relic in their possession and sold it again - it was acquired by a well-known company selling books.Then, in 1924, this purchase cost £ 400, which was an impressive amount. And then the penis was first presented to the public - it was exhibited at the Museum of French Art in New York.
4.
The statue of Napoleon Bonaparte.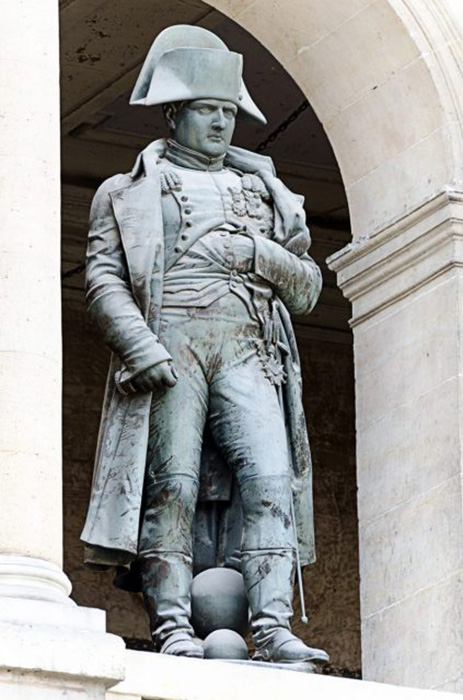 20 years later, the company resold the penis to the American collector Donald Haid - and this small exhibit set off across the Atlantic to another continent. A quarter of a century later, after the death of Donald, his widow sold the relic (as well as other exhibits from Napoleon's personal belongings collection) to another collector - Bruce Gimelson.
5.
Napoleon in 1806. Fragment (XIX century).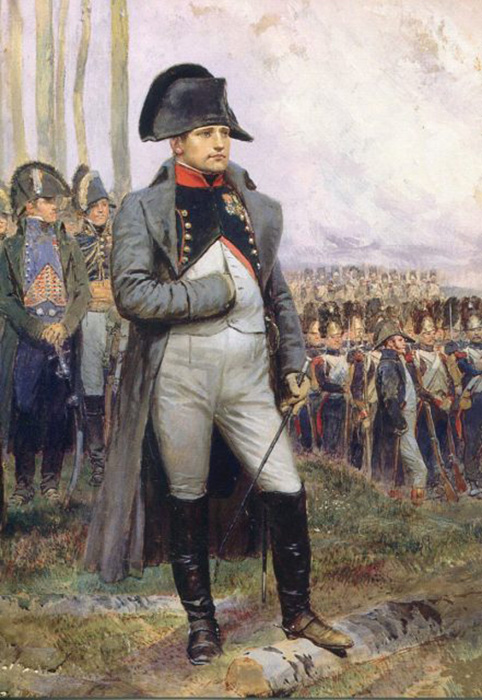 Bruce Gimelson also decided to sell his property and put them up for auction at Christie's, however he flatly refused to sell his collection in parts, asking for all the fabulous money. The auction did not go for such a deal, and Gimelson tried to independently find a buyer for all this good. Alas, in vain. Even the French government refused to buy Napoleon's personal belongings from him - either the evidence of their origin was not sufficiently convincing, or the price was not very adequate.Anyway, almost a decade of unsuccessful attempts to sell the collection led him to decide to divide it into parts and sell the exhibits separately. For everything about everything, he received 100 thousand dollars.
6.
The death of Napoleon. Charles de Stuben (1828).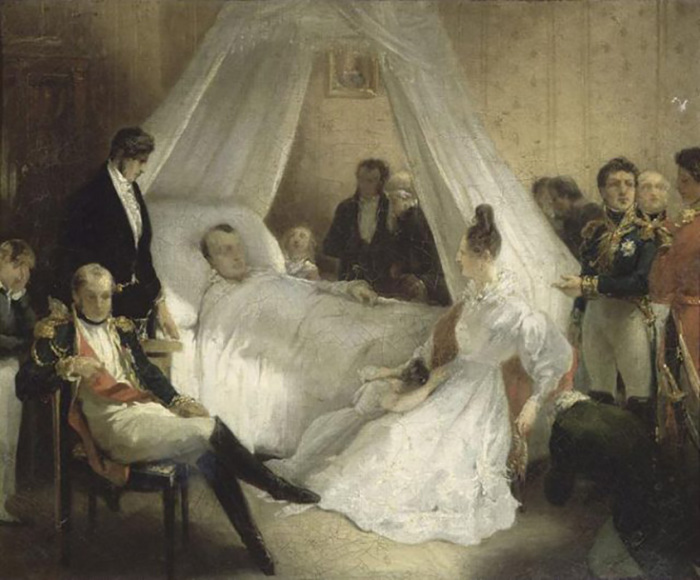 Then the penis was bought by American urologist John Lattimer - it was he who paid him $ 3,000. As he said, he did not want unscrupulous people to harm this important historical relic. Lattimer kept his penis in a glass box specially created for this exhibit until his death (2007). This box stood under the doctor's bed, and to avoid talking about those "unscrupulous people," Lattimer flatly refused to show Napoleon's penis to strangers.
7.
Napoleon on his deathbed. Verne (1826).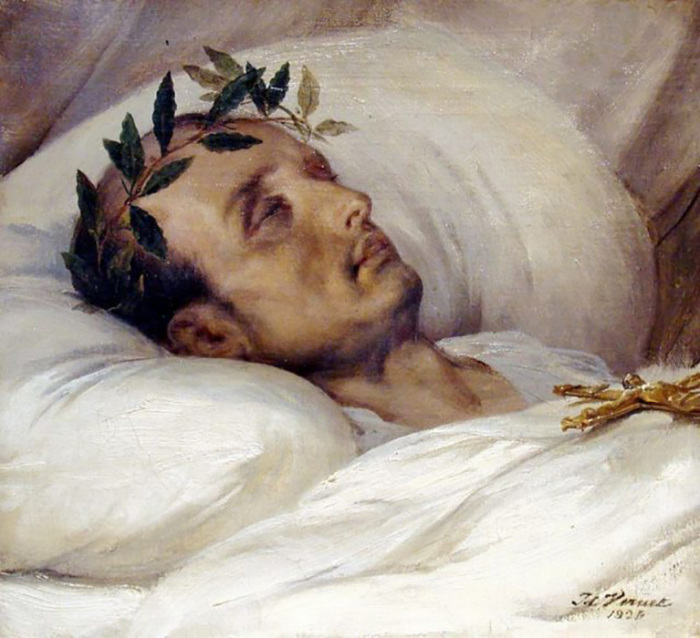 After the death of Lattimer, Napoleon's penis was inherited by the doctor's daughter, who decided not to stand on ceremony with this precious exhibit and sell it. She requested 100 thousand dollars (as opposed to 3,000 for which it was purchased) - and this was not the sum of the entire collection, but only for the penis itself. At the same time, it is possible to make a DNA analysis, which it is already possible to do today and, accordingly, it is possible to confirm whether this exhibit is really what it claims to be, it refused.Is it any wonder then that there were no buyers for such a dubious purchase?
8.
Rarity - the alleged penis of Napoleon Bonaparte.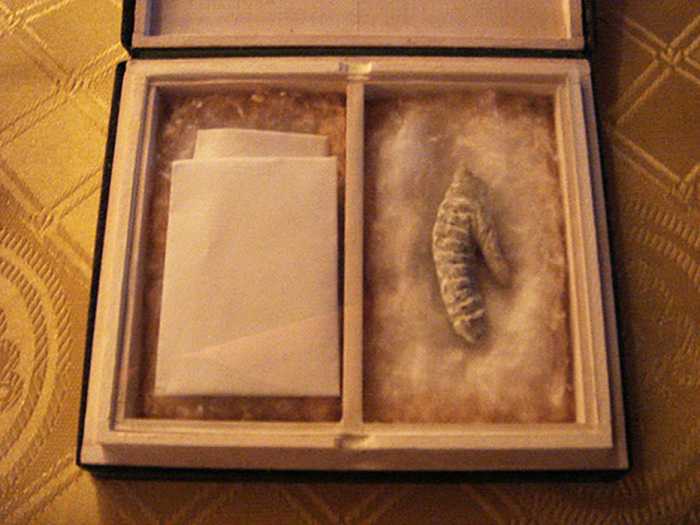 One of the few who saw this exhibit with his own eyes, was Tony Perrottet, author of the biography of Napoleon. In his book, he described this relic as "very small, literally the size of a child's finger, a piece of wrinkled beige skin with whitish streaks." After such an "advertisement", this exhibit will probably have even fewer potential buyers.
Related news
The story of the stolen body part of Napoleon Bonaparte
The story of the stolen body part of Napoleon Bonaparte
The story of the stolen body part of Napoleon Bonaparte
The story of the stolen body part of Napoleon Bonaparte
The story of the stolen body part of Napoleon Bonaparte
The story of the stolen body part of Napoleon Bonaparte
The story of the stolen body part of Napoleon Bonaparte
The story of the stolen body part of Napoleon Bonaparte
The story of the stolen body part of Napoleon Bonaparte
The story of the stolen body part of Napoleon Bonaparte
The story of the stolen body part of Napoleon Bonaparte
The story of the stolen body part of Napoleon Bonaparte
The story of the stolen body part of Napoleon Bonaparte
The story of the stolen body part of Napoleon Bonaparte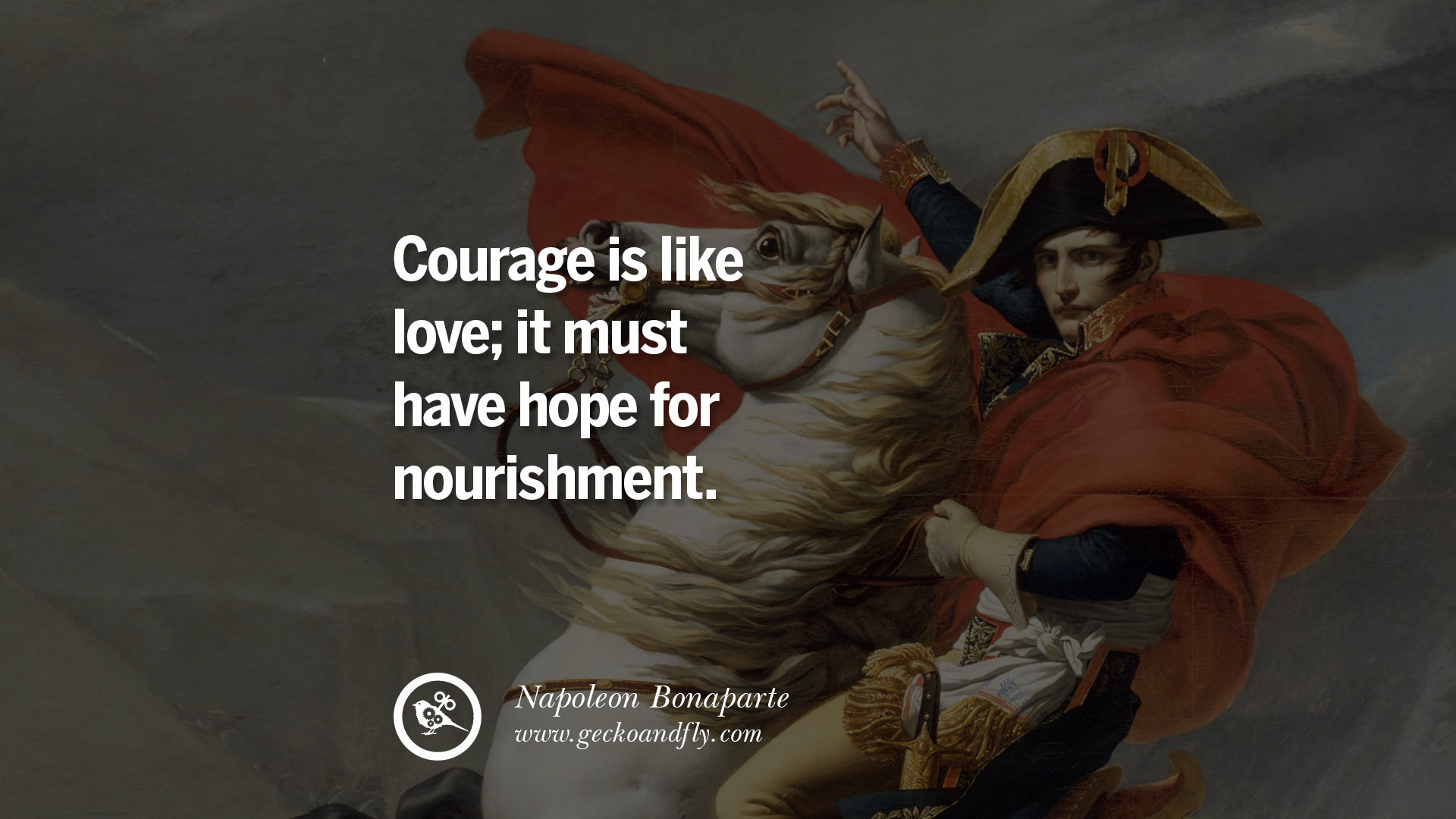 The story of the stolen body part of Napoleon Bonaparte
The story of the stolen body part of Napoleon Bonaparte
The story of the stolen body part of Napoleon Bonaparte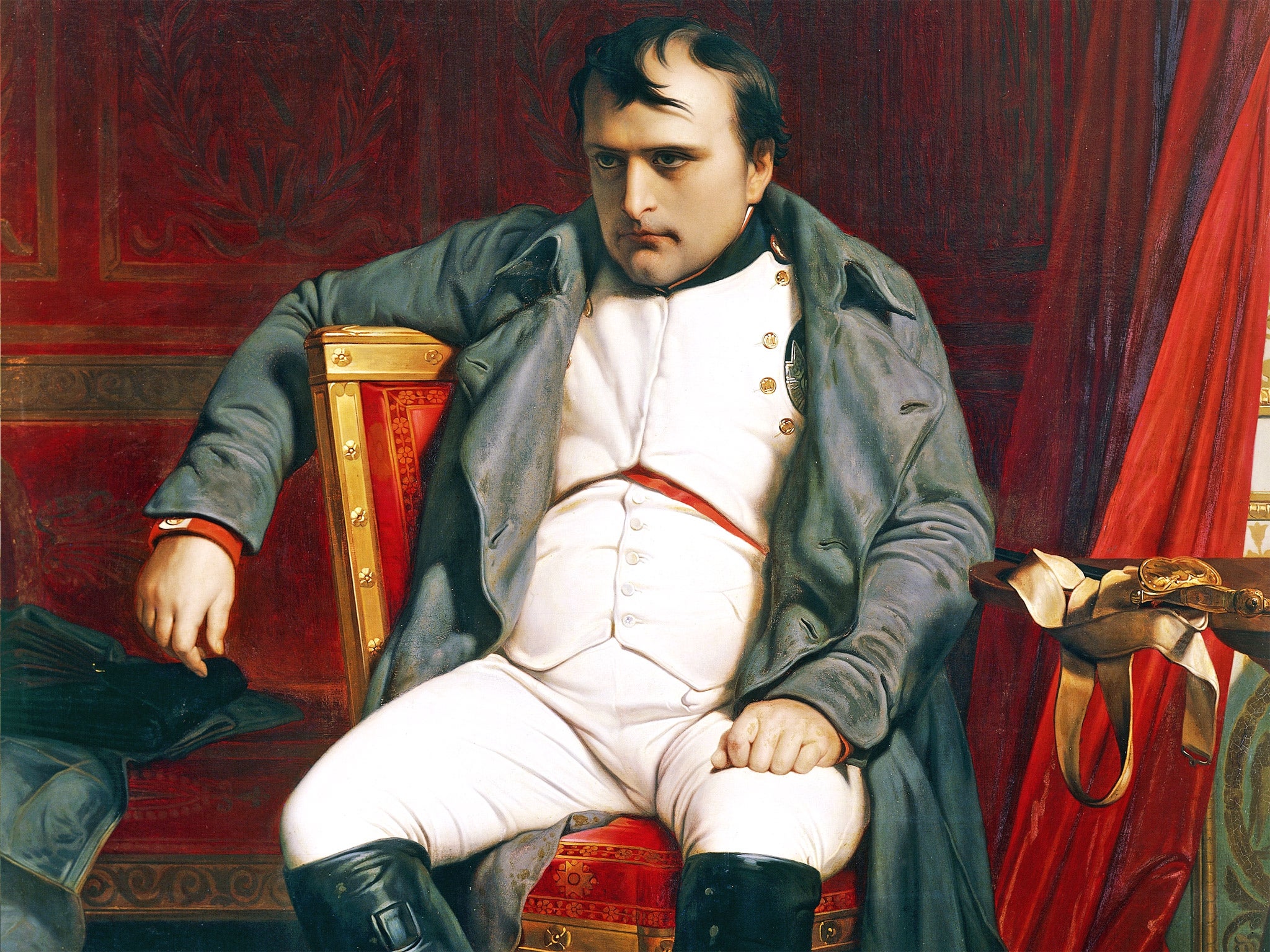 The story of the stolen body part of Napoleon Bonaparte
The story of the stolen body part of Napoleon Bonaparte
The story of the stolen body part of Napoleon Bonaparte
The story of the stolen body part of Napoleon Bonaparte
The story of the stolen body part of Napoleon Bonaparte
The story of the stolen body part of Napoleon Bonaparte
The story of the stolen body part of Napoleon Bonaparte
The story of the stolen body part of Napoleon Bonaparte
The story of the stolen body part of Napoleon Bonaparte
The story of the stolen body part of Napoleon Bonaparte